Centre for Computational Chemistry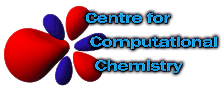 The Centre for Computational Chemistry, at the School of Chemistry, University of Bristol, brings together six research groups whose activities span many areas of chemistry (and also materials, environmental and biochemical science). The research activities of the Centre make extensive use of computers. All the research personnel are located together in a specially designed area of the Chemistry department. The activities of the Centre include the development of molecular electronic structure methods and computer codes, molecular dynamics, enzyme catalysis, organo-metallic chemistry, atomistic modelling of materials and atmospheric modelling. Their activities are supported by a computing officer and excellent computational facilities.
Members of the Centre include: Professors Neil L. Allan, Gabriel G. Balint-Kurti, and Drs Jeremy N. Harvey, Frederick R. Manby, Adrian J. Mulholland, and Dudley E. Shallcross, with Associate Members including: Professors Roger W. Alder and Richard N. Dixon, FRS and Dr Colin M. Western.
---