MENTHOL

(including the mint julep)

Also available: HTML-only, JMol, and VRML versions.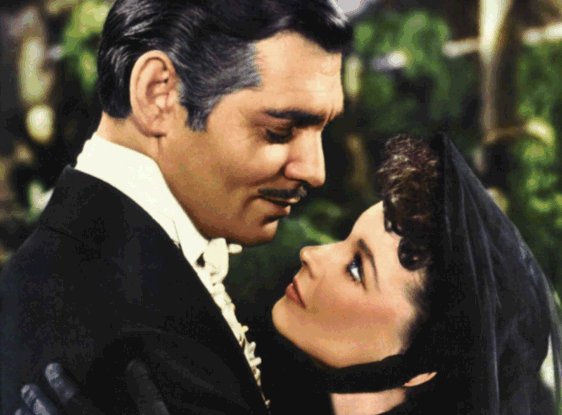 Rhett Butler would not have been the man he was without his mint juleps.
But what is a mint julep?
Mint julep is the archetypal Southern drink, made from bourbon, ice, sugar and mint, particularly associated with the Kentucky Derby, a classic event for 3 year old thoroughbreds, held over one and one-quarter miles at Churchill Downs racecourse on the first Saturday in May.
Great, so what does it have to do with menthol?
Menthol is a major component of mint. It is obtained by extracting mint by steam distillation, removing the water by drying, then chilling the resulting oil to crystallise the menthol. The best source is probably Mentha arvensis, Corn Mint, (see pic, below) whose oil is up to 85% (-)-menthol.
You mean, the same mint used in mint sauce?
Yes, the stuff made from chopped-up mint leaves in vinegar, with a dash of sugar. Just the thing for roast lamb.
How is it made?
The Japanese chemist Ryoji Noyori (pic, right), who shared in the Nobel Prize for Chemistry in 2001, developed rhodium-based catalysts for the synthesis of (-) menthol from myrcene. Such syntheses are now used commercially, with an enantiomeric excess of up to 100%.
How is it made in nature?
There is a complicated pathway, involving a series of enzyme-catalysed reactions.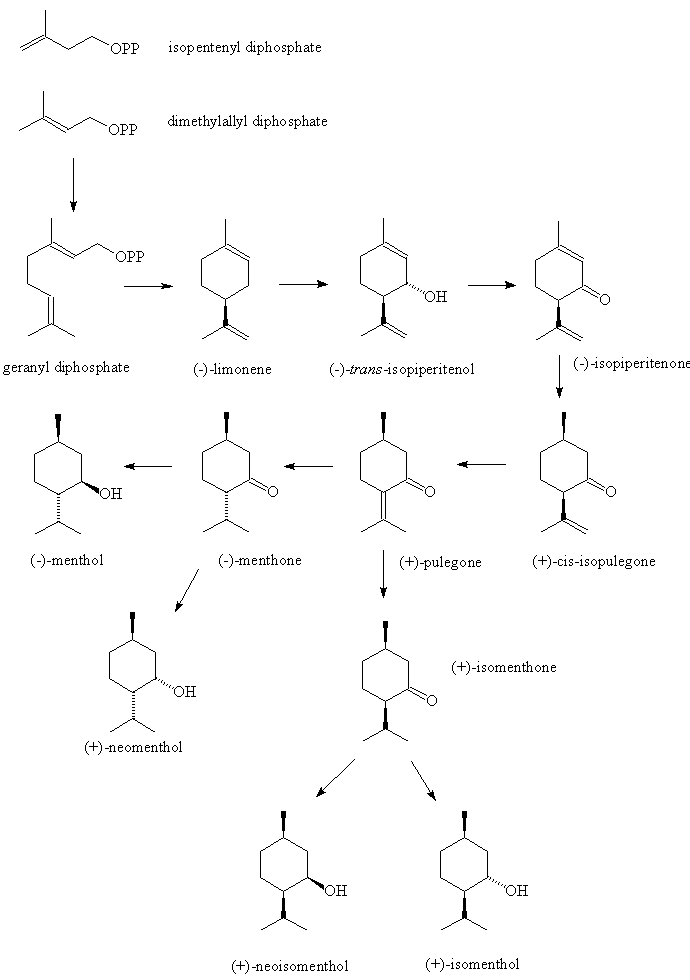 What is menthol like?
It's a colourless crystalline solid, m.p. 41 to 43°C, soluble in ethanol but insoluble in water. In nature it only occurs as (-) menthol, and its formal name is (1R,2S,5R)-2-isopropyl-5-methylcyclohexanol.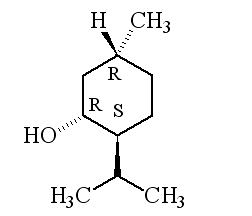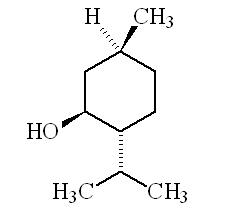 Why is it called (-) menthol?
The molecule can exist as a pair of optical isomers, though natural menthol only contains the (-) form produced in biosynthesis. The 2-isopropyl-5-methylcyclohexanol molecule has three asymmetric (chiral) carbon atoms in its cyclohexane ring; it therefore occurs as four pairs of optical isomers. The other isomers are known as isomenthol, neomenthol and neoisomenthol. In menthol, all three bulky groups (OH, CH3 and CH(CH3)2) are in equatorial positions (see sketch, right), making menthol more stable than the other three isomers.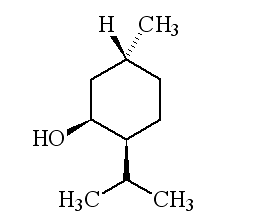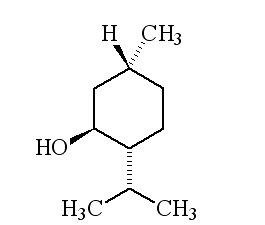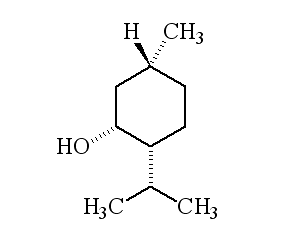 ---