UNDERSTANDING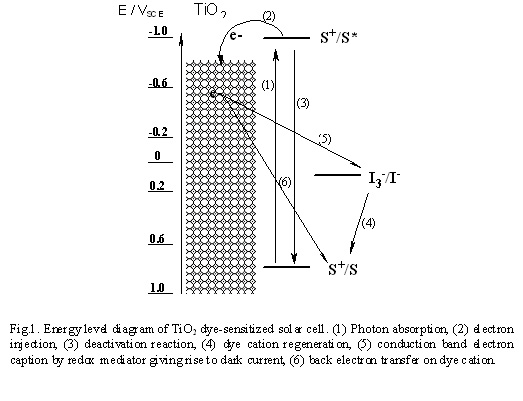 The concept of metallo-organic solar cells.
Classical solar cells take advantage of the fact that photons interacting with the semiconductor can create electron-hole pairs producing an electrical potential difference at the junction between two different materials. In dye-sensitised solar cells photoanode made of nanoporous titanium dioxide support the dye on the surface (figure 2). The TiO2 structure with a porosity of 50% has a surface available for dye sorption over thousand times that of a flat identical surface. TiO2 nanocrystalline grain sizes are in the range of 10-80 nm. Due to its large band gap TiO2 absorbs only the ultraviolet part of the solar emission and so induces low conversion efficiency. The role of the dye is to sensitise the TiO2 surface by extending the photosensitivity to longer wavelengths. This role is capital because the injection efficiency should be higher as possible about 85-90%. The rate of electron transport in dye-sensitised solar cells is a major element of the overall efficiency of the cells. The cell is composed of a nanocrystalline TiO2 layer on which carboxylic groups attached the dye. When exposed to light, the dye interacts with photons and goes to an excited state sufficiently energetic to inject an electron into the TiO2 conduction band. This electron can be collected at the transparent conducting glass (ideal case) or can return to the Ru(III) centre (charge recombination reaction- arrow 6-fig.1) or can even be trapped by the redox mediator (dark currents generated-arrow 5-fig.1).

In details, three main reactions are triggered by an incident photon: (a) electron injection from the dye excited state to conduction band of TiO2, (b) relaxation/cooling processes of the hot electron in the conduction band and in trap states, and (c) recombination between electron and dye cation and or caption by redox mediator species. Electron injection can occur on a fast or ultra fast time scale (fig.2). Recombination reaction occurs in a hundred of nanosecond time scale. Regeneration of the dye cation by iodide system is even faster. However reactions of conduction band electrons with radical anion I2°- (on average of hundred nanosecond time scale in regime I) remains a viable way for electron losses. Even if some researchers announced no electron loss when less than one electron per nanoparticule is injected, it is difficult to understand why, at low light intensity, we observe IPCE values ranging from 10 to 90% depending on dye molecular structure. Dark current lowers the overall solar cell performance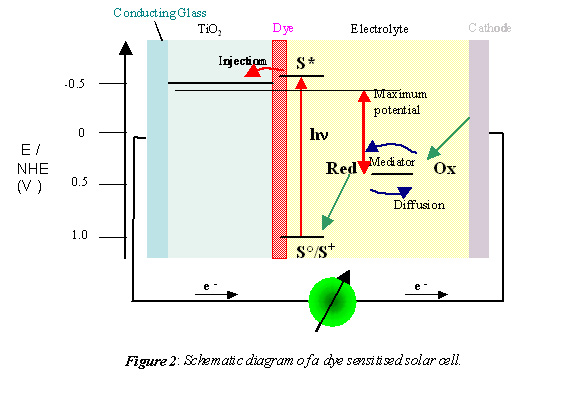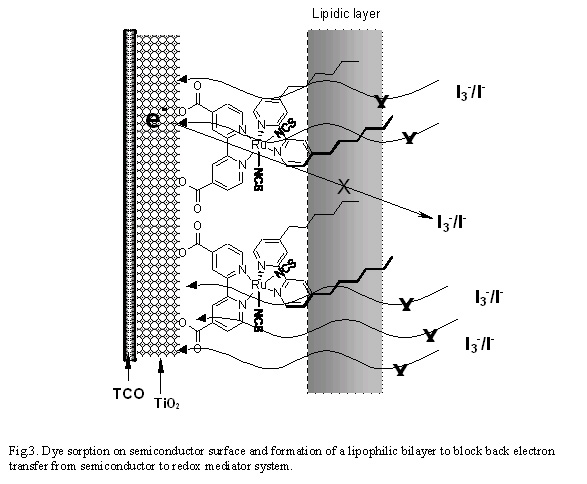 One possible way to block back electron transfer is to create a barrier as in bilayer membranes. This has been achieved by attaching hydrocarbonated long chains on the dye (fig.3).