Spider Venom
General Info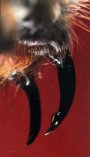 Almost all spiders possess venom. They inject it into their prey through fangs to induce paralysis and immobilisation so that it can either be eaten right away or kept for later. Digestive fluids containing enzymes are regurgitated onto or into the prey and the digestive juices are subsequently ingested. Contrary to popular belief, the digestive fluids are not injected into the prey through the fangs but after the prey has been immobilised.

Spider poison is not always injected into other organisms. Some spider species have toxins on body hairs that are scraped onto predators to cause eye and skin irritation or temporary blindness, allowing the spider to escape. Spitting spiders spray glue-venom to capture their prey.
Most spiders are actually too small to bite humans since their fangs are unable to penetrate the skin and of those that do break the skin. Out of about 40,000 species only 20-30 have venom potent enough to cause harm to humans and they only bite if they feel threatened. The actual effect of the venom depends largely on age, health and amount injected. Most venom does not cause a severe reaction because insufficient amounts are injected but temporary skin discoloration and swelling may occur. Death is extremely rare and is usually caused by a severe allergic reaction or immune deficiency to the venom rather than the action of the poison itself. Children and the elderly are more susceptible to extreme reactions.
Two of the most poisonous spiders include:
Black widow spider (Latrodectus mactans): Its venom is 15 times more potent than rattlesnake venom of equal weight. Only the female spiders pose a threat; venom from male black widows is harmless to humans. The venom is a neurotoxin and affects the nervous system. Symptoms include severe chest and abdominal pain, raised blood pressure, breathing problems, heart palpitations, nausea, sweating, excessive salivation and a high pulse rate. Death is very uncommon but when it does occur it is usually due to suffocation caused by the immobilisation of muscles required for breathing.

Brown recluse spider (Loxosceles reclusa): Symptoms occur 6-8 hours after the initially painless bite. The venom is necrotic and affects cellular tissue. The bite firstly appears as a mosquito bite but soon becomes more swollen and painful. Tissue death and ulceration occurs to form a lesion up to 10 cm in diameter. This lesion can take months to heal and antibiotics must be taken to prevent a secondary bacterial infection. The most severe wounds occur in areas where there is a higher fat content such as the thighs, abdomen and buttocks. Scarring can occur and in some cases skin grafts and plastic surgery may be needed.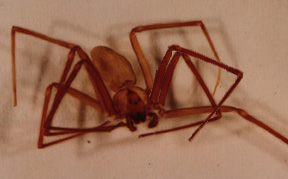 Generally, spiders that live on webs possess neurotoxic venom whereas those that do not live on webs have necrotic venom.