Terpenes
---
The class of compound known as terpenes comprise of essential oils, flavours and fragrances. The extraction and synthesis of compounds such as these is the basis for the perfumery industry. They find a variety of uses in the food and pharmaceutical industry as flavour and odour improvers.

The terpenes were some of the first compounds to be extracted from natural sources (plant material) and were in ancient times highly valued in their pure forms.

Terpenes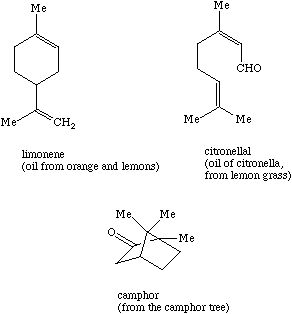 Can you spot which terpene may appear as an integral part of the structure of a cannabinoid such as delta 9-THC (reviewed below) ?
delta 9-THC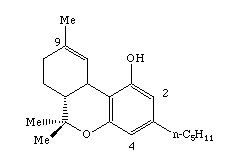 Both limonene and citronellal look possibilities but syntheses of delta 9-THC exist which use citronellal more readily.
---
Return to previous page : Cannabis
---
Further Reading:
General chemistry :

Solomons T.W.G, Organic Chemistry, 5th Edition, J.Wiley and Sons.Inc, p.1053
---
This Page is maintained by Dr Lee Banting of the University of Portsmouth. Page last updated: 28th March 1996.
---
|University of Portsmouth, Home Page| |Disclaimer & Copyright|
Copyright © University of Portsmouth 1996. All rights reserved.