The first Annual Reports on the Progress of Chemistry which was published by the Chemical Society in 1904 contains the following :- Few discoveries of recent years have attracted more attention than that of the remarkable series of unsaturated hydrocarbons which Gomberg has isolated by the action of metals (zinc, silver, or mercury) on triphenylchloromethane and analogous compounds. The interest depends, not only on the isolation of hitherto unknown univalent hydrocarbon groups in which carbon is tervalent, but on the curious properties of the new compounds. Various attempts which have been to bring triphenylmethyl into line with recognised structural formulae have failed to carry conviction to the discoverer of this compound. In the free state, triphenylmethyl is bimolecular yet distinct from hexaphenylethane, into which, however, it readily polymerises with various catalysts, notably hydrochloric acid. It is unsaturated, combining directly and very readily with oxygen to form a peroxide.and with the halogens to form triphenylmethyl halides. It combines, moreover, with ethers and esters, although in these cases it still retains its unsaturated character.......

Triphenylmethyl is a colourless, crystalline solid, but in organic solvents it yields a yellow solution. This change in colour is attributed by Gomberg to the formation of the coloured ion

(C6H5)3C......

Compounds similar in character to triphenylmethyl have been produced by the action of metals on other triarylchloromethanes. The ditolylphenyl, tritolyl, trinitrotriphenyl, &c., compounds give coloured solutions (the first two being orange and the third greenish-blue) which, on warming, assume a violet, and finally a magenta colour. On cooling, the colour changes occur in the reverse order.

Annual Reports on the Progress of Chemistry 1905

Little fresh light has been thrown on the constitution of triphenylmethyl since the last report was published.The most important contribution to the subject is undoubtedly that of Tschitchibabin which appeared towards the close of the year. The identity of the bimolecular triphenylmethyl with hexaphenylethane was disproved by the supposed synthesis of the latter by Ullmann and Borsum which was found to be a stable compound of entirely distinct properties. An investigation into the structure of Ullmann's synthetical compound by Tschitschibabin has led to the interesting discovery that the substance in question is not hexaphenylethane, but in all probability a compound having the formula

(C6H5)3 C.C6H4. CH(C6H5)2

Tchitschibabin, concludes that Gomberg's compound may still be hexaphenylethane, .......

The only new contribution by Gomberg is a paper in conjunction with Cone, describing a series of additive compounds of triphenylmethyl with different esters and hydrocarbons.......

At the close of the paper the authors review the evidence of Tschitschibabin and the alternative formulae suggested by Heintschel (IV) and Jacobson (V):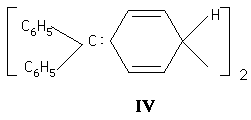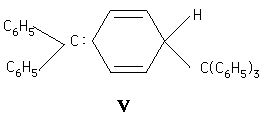 Most of the arguments based on the unsaturated character of the hydrocarbon and the property of forming additive compounds are reaffirmed in support of the original formula.