PRESERVED ORENSTEIN & KOPPEL STEAM LOCOMOTIVES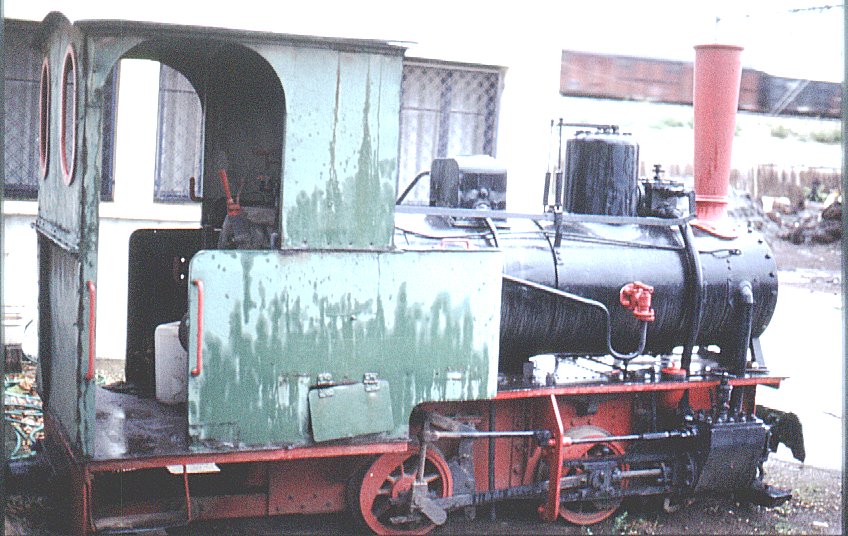 LOCATION
Ferrailles R.Worms, Lyon, France
RAILWAY NUMBER
RAILWAY
WHEEL ARRANGEMENT
Bt
HORSE POWER
40
GAUGE
600mm
BUILDER
O&K
BUILDER'S NUMBER
1486
YEAR BUILT
1903
PREVIOUS
RAILWAYS AND NUMBERS
according to the O&K archives in the Verkehrsmuseum in Dresden, O&K 1486 was delivered to Nancy, in France. Other sources give Truchetet & Tansini as owners, but nothing is known about the loco before it was seen at Worms in Lyon. The entry in the O&K works list book that it was delivered to Cairo is an error.
CONDITION
moderate, stored out of doors when last seen in 1983
PHOTO BY
MM
PLACE AND DATE
Lyon, August 1983
NOTES
this loco was stored by the dealer R.Worms in Lyon for many years, but all attempts by French enthusiasts to purchase it were rejected by the owners. In the late 1980's the company went bankrupt, the site was cleared, and the loco disappeared. Not long afterwards, a very similar loco appeared on a plinth at Sicafrance, in Jouy-les-Arches, Moselle, which was reported as 1488. It is my belief that these two locos are the same loco, but I am uncertain as to whether 1486 or 1488 is the correct works number. J.Couédou is insistent that they are different locos, but no history of the Sicafrance loco before about 1992 is known.