PRESERVED ORENSTEIN & KOPPEL STEAM LOCOMOTIVES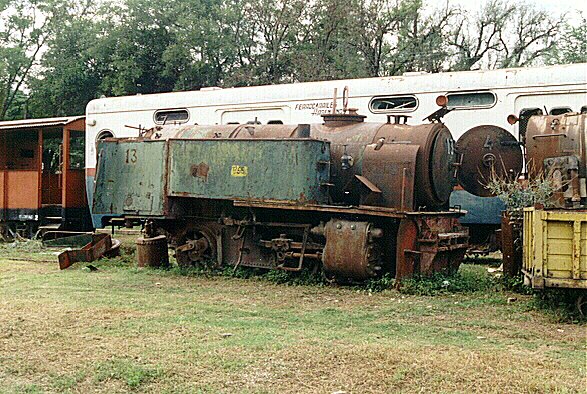 LOCATION
Valle Hermoso station, Cordoba province, Argentina
RAILWAY NUMBER
13
RAILWAY
Ledesma sugar factory, Jujuy province
WHEEL ARRANGEMENT
Bt
HORSE POWER
140
GAUGE
1000mm
BUILDER
O&K
BUILDER'S NUMBER
9908
YEAR BUILT
1922
PREVIOUS
RAILWAYS AND NUMBERS
CONDITION
poor, many parts dismantled
PHOTO BY
MM
PLACE AND DATE
Valle Hermoso, 25th March 1998
NOTES
Vale Hermoso, a few km south of La Falda on the old Cordoba North Western Railway line from Cordoba to Cruz del Eje, was for some years the site of a tourist line, the Expresso 900, which employed two O&K locos, 4141 and 4004. A small museum in the old station buildings has a few photos of the line when it was working in the 1970s. This line closed several years ago, but in 1998 three O&K metre gauge locos from Ledesma sugar factory were found on the station site. Two, 10092 and 9908, are semi-derelict, but 9414 has been cosmetically restored.