PRESERVED ORENSTEIN & KOPPEL STEAM LOCOMOTIVES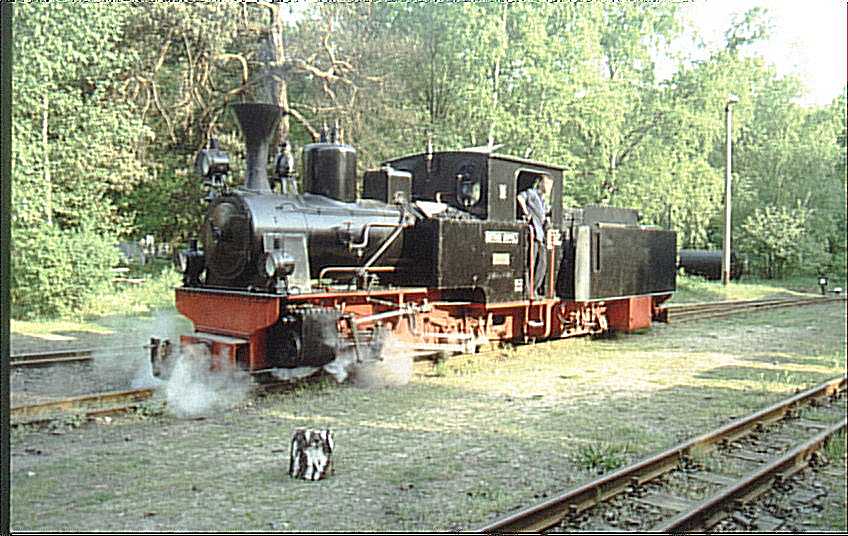 LOCATION
Berliner Park Eisenbahn, Berlin-Wuhlheide, Germany
RAILWAY NUMBER
RAILWAY
Harbott & Hoyer, Duisburg-Meiderich
WHEEL ARRANGEMENT
Ct
HORSE POWER
70
GAUGE
600mm
BUILDER
O&K
BUILDER'S NUMBER
12805
YEAR BUILT
1936
PREVIOUS
RAILWAYS AND NUMBERS
CONDITION
excellent, in working order
PHOTO BY
MM
PLACE AND DATE
Berlin-Wuhlheide, May 1992
NOTES
originally preserved in 1978 by Dampfkleinbahn Muhlenstroth/Gütersloh as their BNr.5 "Arthur Koppel", this loco has been on extended loan to the Berliner Park Eisenbahn. The BPE was originally a Pioneer railway, but has successfully survived the transition from a communist state. Visit their web-site for more details about "Arthur Koppel" and their other locomotives.