PRESERVED ORENSTEIN & KOPPEL STEAM LOCOMOTIVES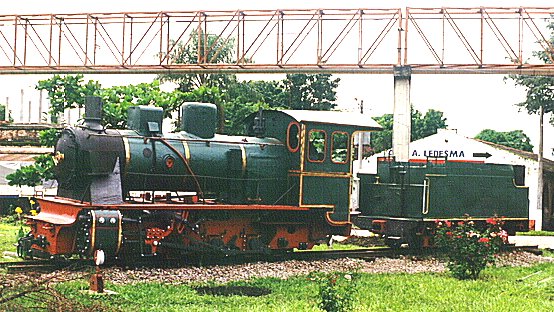 LOCATION
Ingenio Ledesma, Jujuy province, Argentina
RAILWAY NUMBER
RAILWAY
Ingenio Ledesma
WHEEL ARRANGEMENT
E + t
HORSE POWER
160
GAUGE
700mm
BUILDER
O&K
BUILDER'S NUMBER
12895
YEAR BUILT
1937
PREVIOUS
RAILWAYS AND NUMBERS
CONDITION
good, not in working order
PHOTO BY
MM
PLACE AND DATE
Ledesma, 29th March 1999
NOTES
the sugar factory in Ledesma, in northern Argentina, had both 700 and 500mm gauge systems, as well as metre gauge locos to shunt the connection to the main line F.C. Belgrano. The only loco left at the factory is this one, displayed in front of the factory entrance.