PRESERVED ORENSTEIN & KOPPEL STEAM LOCOMOTIVES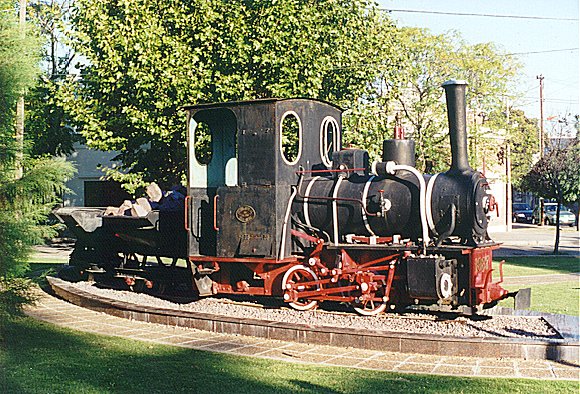 LOCATION
Provincial penal headquarters, Calle 6 & 33, La Plata, Argentina
RAILWAY NUMBER
RAILWAY
penal colony at Sierra Chica
WHEEL ARRANGEMENT
Bt
HORSE POWER
20
GAUGE
700mm
BUILDER
O&K
BUILDER'S NUMBER
13007
YEAR BUILT
1937
PREVIOUS
RAILWAYS AND NUMBERS
CONDITION
good, not in working order
PHOTO BY
MM
PLACE AND DATE
La Plata, 29th March 1998
NOTES
Buenos Aires province has a penal colony at Sierra Chica, which ha a narrow gauge railway serving stone quarries. 13007 was one of the locos which worked there, and is now displayed in front of the provincial headquarters in La Plata. A similar loco, O&K 9313, is preserved at Sierra Chica.