In 2012, the Bristol Centre for Colloid and Interface Science will run the Spring School in Colloid Science in conjunction with Formumetrics. The course will be held in the School of Chemistry at the University of Bristol from March 26th to 28th 2012.
Colloid science encompasses many disciplines including: drug delivery, food absorption, catalyst development, polymer solutions, crystallography, inter-particle adhesion forces and oil recovery. This breadth is reflected in the content of the short course.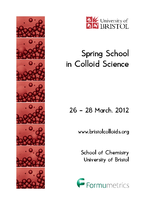 Download the course brochure (PDF)
About the Spring School in Colloid Science
At Bristol, we have a proud history of undertaking excellent research and organising introductory courses for researchers moving into the world of colloid science. Events such as the highly acclaimed colloids "Spring School" have been running since the early 1970s.
The Spring School is aimed at people with a technical background but not necessarily one in colloid science. It will be of interest to scientists and engineers and will cater to both new recruits and managers moving into this field. Seasoned researchers seeking to update or refresh their knowledge are also most welcome. The lecture material is suitable for physical scientists who have no previous training in colloid science.
About Formumetrics
Based in the Bristol and Bath Science Park, Formumetrics was founded by previous members of The Bristol Colloid Centre. They specialise in helping a wide variety of industrial clients ranging from SMEs through to the UK's leading R&D companies. The staff of Formumetrics will be involved in delivering the scientific programme.
Course structure
This course will focus on the theories used in colloid science, their application and associated techniques, including: the properties of charged surfaces, the stability of charged systems, surfactant aggregation, surfactant adsorption, emulsions, microemulsions, polymers in solutions, polymers at interfaces, wetting, aerosols, foams, and rheology. (further details are in our PDF brochure). We will also focus on the translation of research from lab bench to industry through workshops and case studies. The course aims to provide a general introduction to the field coupled with more detailed illustration of the most important theoretical and experimental work. The researchers of the Bristol Centre for Colloid and Interface Science are experts in these fields and attendees are encouraged to interact with them during the course.
We are also including a course dinner to provide the opportunity to talk more informally with the researchers who are presenting the course.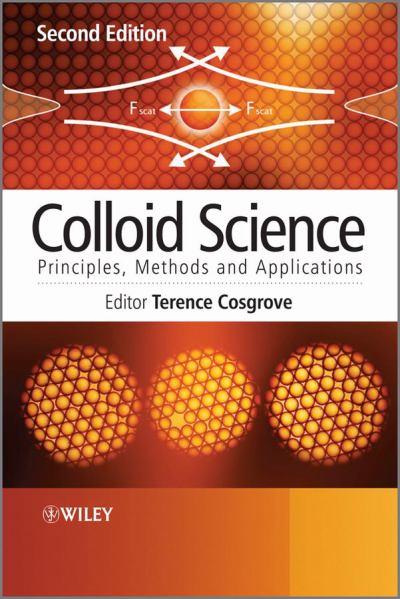 What is included
The attendance fee includes:
a copy of the book prepared by researchers in the Bristol Centre for Colloid and Interface Science, Colloid Science: Principles, Methods and Applications, 2nd Edition. Edited by Terence Cosgrove.
a comprehensive set of course notes for the lectures
coffee breaks on each day
the course dinner on Tuesday night
lunch each day
Registration
To register for the course please complete the
registration form (PDF)
; we can accept payment by cheque or on invoice.
Course dates:
26th-28th March 2012
Registration closes:
5th March 2012 (please contact us earlier if you wish to pay on invoice)
Location:
School of Chemistry, University of Bristol (Google maps)
Cost:
£1150 incl. VAT
Contact:
Dr Samantha Hutton <colloids-course@bristol.ac.uk>
ph: +44 (0)117 370 7760 or 07981 395 780