METHYL HEXANEAMINE

(a.k.a. Geranamine, 1,3-dimethylamylamine, DMAA)

The illegal stimulant that cost Usain Bolt
one of his 9 gold medals.

Simon Cotton
University of Birmingham

Molecule of the Month August 2017
Also available: JSMol version.
Should I have heard of it?
DMAA has been in the news in 2016 as it was one of the drugs detected in samples taken from Russian athletes. It has also been taken by a number of other athletes over the past decade or so. And most famously of all, it is the substance detected in a sample from a team mate of Usain Bolt which cost Bolt one of his nine Olympic gold medals (and prevented the world-beating achievement of a triple-of-triples for gold medals in successive Olympics).
Why would people want to take it?
DMAA is a stimulant, people feel it gives them more energy.
How long has it been around?
It was first made in the early 1940s and patented in 1944 by the American pharmaceutical manufacturer, Eli Lilly. They synthesised it in a two-stage reaction starting with 2-methyl hexanone.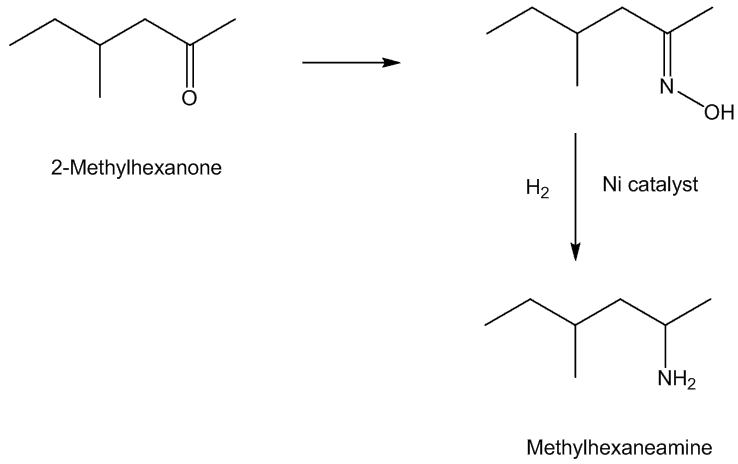 First they reacted it with hydroxylamine, forming an oxime by means of a condensation reaction. Then, in the second step, the oxime group was reduced, here achieved by catalytic hydrogenation.
They were trying to make a substance that would supplant amphetamine as a nasal decongestant.
And was it?
Eli Lilly marketed methylhexaneamine under the trade name Forthane from 1948 until they withdrew it from the market in 1983.
So why did it come back into use?
Other stimulants came under suspicion and were the subject of bans, notably in the USA. In 2004, the US Food and Drug Administration (FDA) prohibited the sale of dietary supplements containing ephedrine, and it was in the wake of that, that methylhexaneamine started to be marketed in dietary supplements and weight-loss products. It has also been claimed that it promotes athletic performance.
And does it?
It looks as if a number of athletes have been tempted to give it a shot. Apart from the Russian use of it, its use seems spread across many disciplines, from baseball to boxing and from weightlifting to soccer and MotoGP.
Are all the athletes guilty?

Very likely not; its presence does not seem to have been advertised in some supplements. But World Anti-Doping Agency (WADA) regulations say: 'Ultimately, the athlete is solely responsible for the substances in his or her body'.

So the use of it is not allowed?

It is on the WADA prohibited list. One of the most high-profile people to test positive for it, during the 2014 Winter Olympic Games at Sochi, was the German biathlete Evi Sachenbacher-Stehle (photo: far-right), who received a two-year ban that year. This was subsequently reduced on appeal to a 6-month ban, on the grounds that there was accidental contamination. The 2010 Delhi Commonwealth Games 100 m women's champion Damola Osayomi (photo: right) lost her gold medal after testing positive for it. In the summer of 2016 it was reported that retesting of blood and urine samples from the 2008 Beijing Olympic Games had shown that the Jamaican sprinter Nesta Carter had shown positive for methylhexaneamine. He had been one of the victorious 4×100 m relay quartet (pictured at the top of the page), and when retests confirmed the result in January 2017, they all lost their gold medals (even though three of them had not taken the drug).


Damola Osayomi

Evi Sachenbacher-Stehle
Why is it a stimulant?
No one is sure. One theory is that one conformer has a similar structure to amphetamines, so it could bind to the same receptor as them.
Methylhexaneamine
(Geranamine)
Amphetamine
It has been taken as a 'weight loss' supplement too.
And is it safe?

Not for some of the people who have taken it. It's been linked with episodes including panic attacks, cerebral haemorrhage, cardiac arrest and serious liver problems. There have also been a number of reported deaths linked with it. The most publicised case reported is that of Claire Squires, who collapsed and died a mile from the end of the 2012 London Marathon. She had consumed an energy drink Jack3d, which contained methylhexaneamine. The supplement OxyELITE Pro, which has contained methylhexaneamine, has also been linked with liver problems. At one time, 'party pills' in New Zealand contained methylhexaneamine, and a 20-year old man died after taking two of them, along with caffeine and alcoholic drinks. A 25-year old woman who took diet pills which contained DMAA developed jaundice and required a liver transplant. In April 2013, the FDA has issued warning letters to remove methylhexaneamine-containing products from the market.

A geranium (Pelargonium graveolens)

Why is it called geranamine?

A study published by Chinese researchers some 20 years ago reported that methylhexaneamine could be found in geranium oil. It does not seem to have been called geranamine until around 2005, when the supplements 'guru' Patrick Arnold applied the term.

Some have suggested that giving methylhexaneamine the name 'geranamine' was a marketing ploy, as it could then be termed a 'natural' ingredient, which could appeal to some purchasers, and that people taking it as a performance-enhancing substance could claim they had been taking a natural chemical.

And is it natural?

Several studies reported that there was no evidence for it in geraniums or geranium oil, and that supplements containing it therefore contained synthetic methylhexaneamine. However, since 2012 it has been detected by other research groups. It is possible that it is only found in some geranium plants, and it is also possible that some extraction and workup processes to get the amine from the plants may not extract it, or that it may be lost during extraction on account of its volatile nature.

Bibliography
Chapman and Hall Combined Chemical Dictionary code number HTC79-N
E. Rohrmann and H. A. Shon, J. Am. Chem. Soc., 1944, 66, 1516-1520 (synth)
R. Charlier, Arch. Intern. Pharmacodynamics, 1950, 83, 573- 584 (pharmacol)
L. G. Chatten and L.E. Harris., Anal. Chem., 1962, 34, 1495-1501 (props)
H. Eggert and C. Djerassi, J. Am. Chem. Soc., 1973, 95, 3710-3718 (cmr)
T. Gajda, A. Napieraj, K. Osowska-Pacewieka. S. Zawadski and A. Zwierzak, Tetrahedron, 1997, 53, 4935-4946 (synth, pmr)
US Patent 2350318 (1944) on aminoalkanes, Eli Lilly Synthesis
Methylhexaneamine in geraniums
Z. Ping, Q. Jun and L. Qing. J. Guizhou Inst. Technol., 1996, 25, 82–85 (first report of DMAA in geranium oil)
A. Lisi, N. Hasick, R. Kazlauskas and C. Goebel, Drug Test. Anal., 2011, 3, 873-876 (DMAA not found in geranium oil)
Y. Zhang, R. M. Woods, Z. S. Breitbach and D. W. Armstrong, Drug Test. Anal., 2012, 4, 986-990 (no evidence for DMAA in geraniums)
M. A. ElSohly, W. Gul, K. M. ElSohly, T. P. Murphy, A. Weerasooriya, A. G. Chittiboyina, B. Avula, I. Khan, A. Eichner and L. D. Bower, J. Anal. Toxicol., 2012, 36, 457-471 (no evidence for DMAA in geranium oil)
C. Di Lorenzo, E. Moro, A. Dos Santos, F. Uberti and P. Restani, Drug Test. Anal., 2012, 5, 116-121 (no evidence for DMAA in geranium oil, supplements 'spiked')
H. L. Fleming, P. L. Ranaivo and P. S. Simone, Anal. Chem. Insights, 2012, 7, 59–78 (evidence found for DMAA in geraniums)
T. D. Gauthier, Anal. Chem. Insights, 2013, 8, 29–40 (evidence found for DMAA in geraniums)
K. G. Austin, J. Travis, G. Pace and H. R. Lieberman, Drug Test. Anal., 2014, 6, 797-804 (no evidence for DMAA in geranium oil)
WADA regulations
Use in sport
Geranamine and supplements
Methylhexaneamine and health
P. Gee, S. Jackson and J. Easton, N. Zeal. Med. J., 2010, 123, 124-127 ('another bitter pill: a case of toxicity from DMAA party pills')
M. J. Eliason, A. Eichner, A. Cancio, L. Bestervelt, B. D. Adams and P. A. Deuster, Mil. Med. 2012, 177, 1455-1459. (deaths of soldiers after taking DMAA in dietary supplements)
P. Gee, C. Tallon, N. Long, G. Moore, R. Boet and S. Jackson, Ann. Emerg. Med., 2012, 60, 431-434. (recreational use of DMNAA and cerebral haemorrhage)
B. K. Schilling, K. G. Hammond , R. J. Bloomer, C. S. Presley and C. R. Yates, BMC Pharmacol. and Toxicol, 2013, 14, 52-61 (pharmacokinetic profile)
S. Foley, E. Butlin, W. Shields and B. Lacey, Dig. Dis. Sci., 2014, 59, 3117–3121 (DMAA and liver damage)
A. C. Dela Cruz, T. Patel, E. Maynard, M. Shah, E. Y. Lee and P. Angulo, Gastroenterology, 2014, 146, Supplement 1, Page S-1002 (liver failure linked to DMAA-containing "Saba Appetite Control and Energy" weight loss supplement)
T. B. Smith, B. A. Staub, G.M. Natarajan, D. M. Lasorda and I. G. Poornima, Tex. Heart Inst. J., 2014, 41, 70–72. (acute myocardial infarction associated with dietary supplements containing 1,3-dimethylamylamine)
M. M. Roytman, P. Pörzgen, C. L. Lee, L. Huddleston, T. T. Kuo, P. Bryant-Greenwood, L. L. Wong, and N. Tsai, Am. J. Gastroenterol., 2014, 109, 1296–1298. (severe hepatitis linked to weight-loss supplement OxyELITE Pro.)
L. V. Karnatovskaia, J. C. Leoni and M. L. Freeman, Clin. J. Sport Med., 2015, 25, e23-e25 (cardiac arrest after taking DMAA in a sports supplement)
D. I. Johnston, A. Chang, M. Viray, K. Chatham-Stephens, H. He, E. Taylor, L. L. Wong, J. Schier, C. Martin, D. Fabricant, M. Salter, L. Lewis and S. Y. Park, Drug Test. Anal., 2016, 8, 319–327 (hepatotoxicity associated with the dietary supplement OxyELITE Pro)


Back to Molecule of the Month page. [DOI:10.6084/m9.figshare.5260036]