Structure and properties of Nicotine
1 - Structure of the molecule



Nicotine is also called 3-(1-methyl-2-pyrrolidinyl)pyridine according to the IUPACa nomenclature. It is a bicyclic compound with a pyridine cycle and a pyrrolidine cycle. The molecule possesses an asymetric carbon and so exists in two enantiomeric compounds. In nature, nicotine only exists in the S shape, which is levogyre.


Representation of the S molecule in 2D :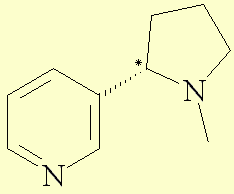 Representationb of the R molecule in 3D :

2 - Properties of Nicotine

Formula

C10H14N2

Molecular Weight

162,234 g.mol-1

Melting point

-79 ° C

Boiling point

247 ° C

Rotatory index (S)

aD = -168 at 20° C

Density

d=1,010

Refractive index

n=1,530

Comments

Pale yellow to dark brown liquid with a slight, fishy odor when warm.
Insecticide.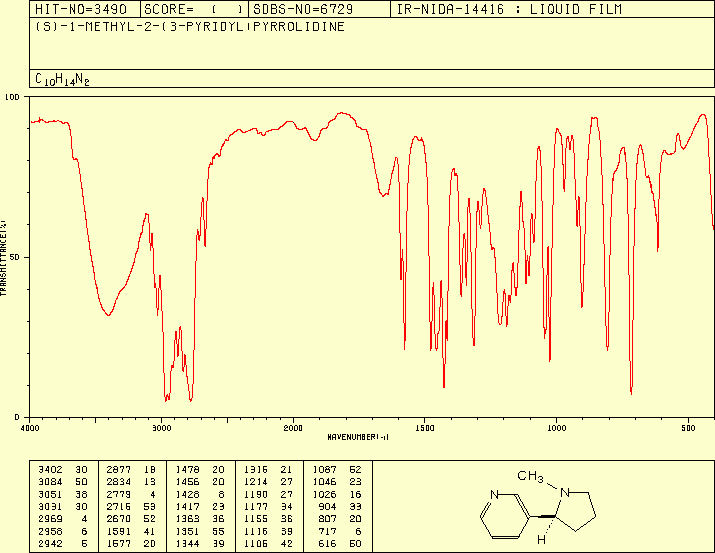 On this spectrum, we can notice several peaks, which characterise the different chemical functions of nicotine:

· Around 3400 cm-1, we can see the large peak of water (it deals with a liquid film).
· Between 2970 and 2780 cm-1 : C-H stretching.
· The peak at 1677 cm-1 : aromatic C=N double bond stretching.
· The peak at 1691 cm-1 : aromatic C=C double bond stretching.
· The peaks at 717 cm-1 and 904 cm-1 correspond to the out of plane bending of the C-H bond of the monosubstituted pyridinic cycle.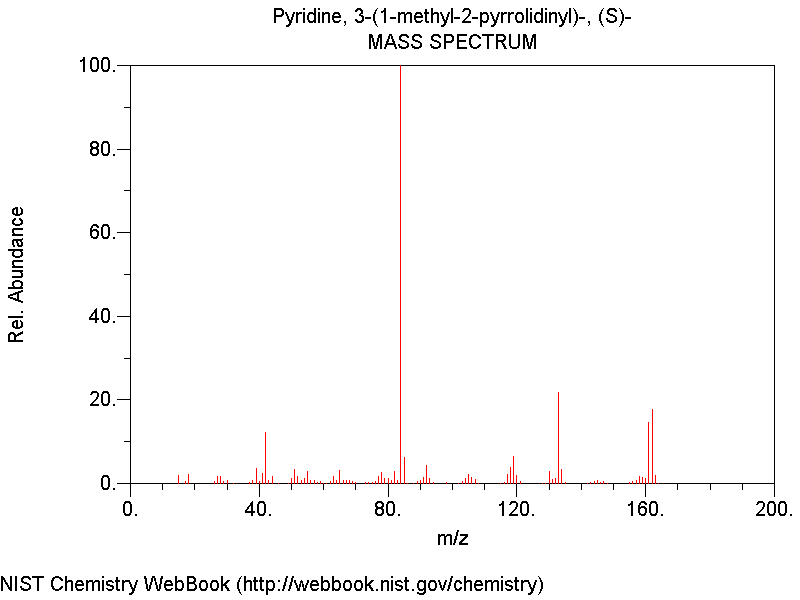 We can notice the molecular peak at 162 m/z. However, the biggest peak is at 84 m/z. It corresponds to the fragmentation of nicotine. It deals with the pyrrolidine cycle, which has this molecular weight. During the electronic bombardment, the nicotine was split between the two cycles.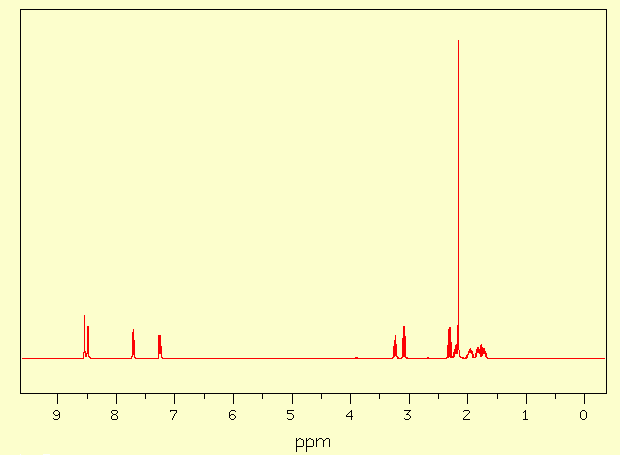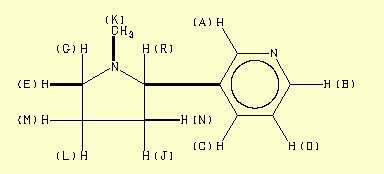 Assignment

Chemical shift (ppm)

A

8,543

B

8,487

C

7,711

D

7,255

E

3,237

F

3,087

G

2,307

J

2,200

K

2,160

L

1,958

M

1,820

N

1,725

Done with C-H COSY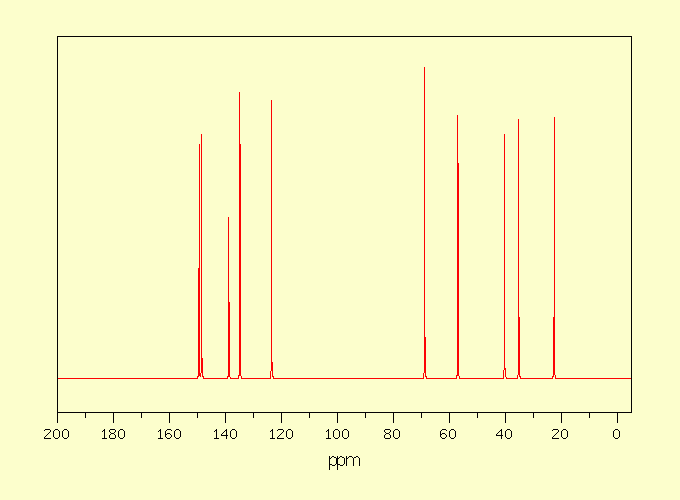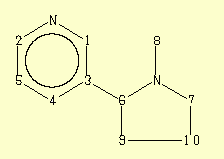 | | | |
| --- | --- | --- |
| Assignment | Chemical shift (ppm) | Integration |
| 1 | 149,45 | 750 |
| 2 | 148,51 | 783 |
| 3 | 138,80 | 517 |
| 4 | 134,86 | 917 |
| 5 | 123,54 | 894 |
| 6 | 68,83 | 1000 |
| 7 | 56,96 | 844 |
| 8 | 40,32 | 783 |
| 9 | 35,23 | 833 |
| 10 | 22,60 | 839 |
---
The IR and RMN spectra were found on the site of SDBSc