About
---
Our research group is headed by Professor Kevin Booker-Milburn and our research interests include photochemistry, palladium (II) catalysis and natural product total synthesis. We are based in the School of Chemistry in the University of Bristol.
Professor Kevin Booker-Milburn is Director of the Bristol Chemical Synthesis Centre for Doctoral Training with which we closely collaborate.
Latest News
---
Congratulations to Dr. Michael Robertson-Ralph for passing his Viva!
For previous news click here.
Latest Publication
---
Combining photochemistry and catalysis: rapid access to sp3 – rich polyheterocycles from simple pyrroles. Chem. Sci. 2016. DOI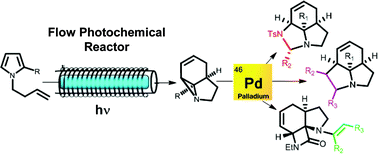 For previous publications click here.