Lysergic acid diethylamide, more commonly known as LSD, is a non-toxic, non-addictive molecule which mimics serotonin in the brain. The body 'mistakes' LSD for serotonin and shoots it across the synaptic cleft. LSD has a higher affinity for 5-HT receptors than serotonin, thus the presence of LSD prevents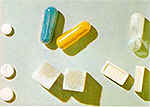 serotonin from sending neural messages in the brain. Once the LSD molecule is bound to the receptor proteins the message is not carried any further. Instead the impulse is redirected to the older parts of the brain, where the bloodstream then takes it to the sense interpretive centres and the motor areas.
http://faculty.washington.edu/chudler/lsd.html
There are many similarities between the molecules of serotonin and LSD which allows this process to occur, the most obvious being their close structural similarities, particularly the indole ring shown highlighted in blue.
| | |
| --- | --- |
| Serotonin | Lysergic acid diethylamide |
Another close similarity between LSD and serotonin is the electron density of the highest occupied molecular orbital. The electron density is lowest in the areas around the indole ring in both molecules. This is indicated by the blue areas in the diagrams.
| | |
| --- | --- |
| Serotonin | LSD |
http://www.cmste.uncc.edu/Document%20Hold/Sawsun-%20Serotonin%20FINAL%20PAPER.doc
The dipole moment of the two molecules are very close. Serotonin is 2.98 debye and LSD is 3.04 debye, with the dipole moment going towards the NH2 group in both molecules. The close similarity in dipole moment is key to the ability of LSD to fit into the same receptors as serotonin.
The combination of all of these chemical similarities allows LSD to imitate serotonin and cause psychedelic hallucinations and visions.