Rat Poison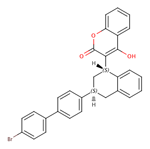 Two years ago, whilst clearing my garden shed I discovered that a pack of bird food that I had inadvertently left out had been scattered all over the floor, and mixed with what were, all too obviously, rat droppings. I also discovered a rat hole in the back of the shed. Bristol City Council responded promptly, and sent a member of their pest control team who laid poison (little blue granules in a tray beside the hole), and returned a week later to check for any dead rats. I never found a dead one, and don't think they are still resident under the shed. We have three cats, so I had half expected to be treated to an 'offering' if a dead rat was found! It is doubtful that the 'blue pellets' contained Warfarin since most rats have developed some immunity to Warfarin, and other more potent coumarins such as Brodifacoum (left) have been substituted. It is also likely that the rats treated the poison with the suspicion they reserve for new foods. They learn fast!
"... brodifacoum is classified as "extremely toxic" (LD50 < 1.0 mg/kg b.w.) and "very toxic" (T+; LD50 < 25 mg/kg b.w.), respectively. Because of its persistency, cumulative potential and high toxicities for various wildlife species, it is also considered an environmental pollutant (N; noxious to the environment). The readiness of brodifacoum to penetrate intact skin should be noted, and brodifacoum and commercial preparations containing it should be handled with respective care and precaution because of its skin resorptivity.
The estimated average fatal dose for an adult man (60 kg b.w.) is about 15 mg, without treatment. However, due to low bait concentrations (usually 10 — 50 mg/kg bait, i.e. 0.001 — 0.005%) and slow onset of symptoms, and the existence of a highly effective antidote (appropriately dosed vitamin K1), brodifacoum is considered to be of relatively low hazard to humans ..." -
Wikipedia
The so-called "super warfarins" are second generation rodenticides, difenacoum, brodifacoum, and a fluorine derivative coumarin, flocoumafen. Difethialone 3-[3-[4-(4-bromophenyl)phenyl]-1-tetralinyl]- 2-hydroxy- 4-thiochromenone, is banned in the USA. All the super-warfarins are extremely hazardous to wildlife, especially birds of prey.