The Biochemistry of Warfarin Action
This is a complex biochemical and medical subject, certainly beyond the simple chemistry required for a molecule of the month! Warfarin acts as a Vitamin K antagonist, that is it blocks the action of vitamin K epoxide reductase.
Vitamins K1 and K2


This vitamin is found in brassicas, spinach, parsley, and other green vegetables, avocado pairs are also rich in Vitamin K1.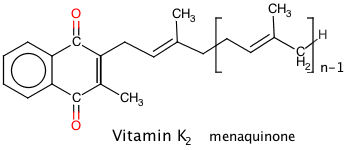 For Vitamin K2, n signifies a number of five-carbon side chain units, hence MK-n, and except for MK4, is synthesised by gut bacteria. Both vitamins are fat soluble, the "K" deriving from the German "koagulation". German researchers discovered the K vitamins, and that they are involved in blood clotting.