It was in 1948 when Benjamin M. Duggar, Professor of Plant Physiology at the University of Wisconsin and a consultant to Lederle, first isolated tetracycline in quite particular circumstances. Dr. Duggar extracted aureomycin from a type of soil found particularly in the vicinity of cemeteries. This special soil contained a unique fungi which had the annihilating effect upon disease bacteria.
The era of tetracyclines had dawned!
The substance isolated by Duggar (7-chlorotetracycline) [1] was named aureomycin1 after its yellowish color. Aureomycin differed much from the others antibiotics known till then, mainly because of its broad spectrum of antimicrobial properties and a relatively low toxicity. Terramycin (5-hydroxytetracycline)2 was isolated two years later [2] by fermentation of the actinomycete, Streptomyces rimosus (Finley et al.). Production of the parent tetracycline itself by catalytic hydrogenolysis of aureomycin [3] was reported in 1953, subsequently, this compound was prepared by cultivation of certain strains of Streptomyces albo-niger [4].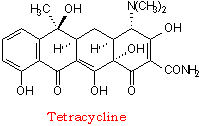 Since then, a remarkable number of investigations has been recorded in order to define and rationalize the biogenetic origin and of the chemical, microbiological, pharmacological, and clinical properties of tetracyclines. Simultaneously, a search of new members of the series has been pressed on a world-wide scale [5]. As a result, a number of new tetracyclines has joined chlorotetracycline, oxytetracycline and tetracycline in widespread application in medical practice.